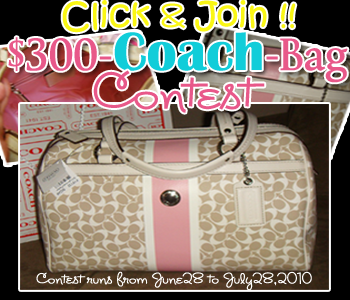 Love bags of all kinds and all kinds of shapes and colors, and material. Not to mention, of different brand names, local or designer. This Brand New COACH Satchel Bag that is worth $300 is not an exception. But I would love to have this for FREE.. Of course, I am so thankful that Umma, of
Moms Conversations
is having this really exciting contest, the
$300 Worth Brand New COACH Satchel Bag Contest
. Imagine, if I win it, that would be an addition to my loot. And an expensive one that I will be getting for FREE. weeeeeeehhh!!!
Anyway, you too can have a chance to win this gorgeous baby for yourself or for your partner.. If you are interested, visit the site and read the requirements at
the contest post
.
Thanks to the following sponsors, we are days away to getting the prize..
Main Sponsors:
Keeping my fingers crossed! Hope I will win this one!
Subscribe in a reader